Saga of Moving Polliwog

We started Tuesday, September 26, 2000, at mile 224 on the Cumberland River from Lakewood Marina where she had been for over 2 years, headed for mile 43. We had a 16' bass boat, M/V Rawhide, rafted up on the starboard side with three 2 foot lenghts of 2X6's lashed to the gaurds. Then we hung old tires on the 2X6's to push against and towed with 5/8" lines. We were moving a 70,000-80,000 pound, 60 foot boat (pretty close to the size of a tractor trailer) with a 1978 70 hp junk bass boat.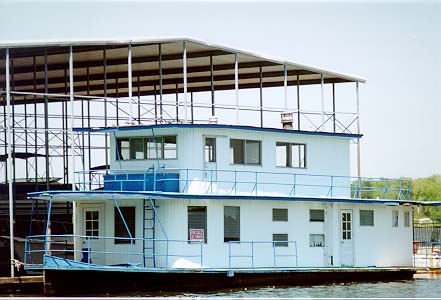 Poliwog at Lakewood marina, mile 224 Cumberland River



After leaving the Marina we headed toward the dam in 10 mph winds about 2:00. When we got to DuPont light, the winds came around the point and spun us around to the left convincing us trying to get in the lock would be even too crazy for this hairbrained group. Upon further inspection, we determined the rudders were canted to the left about 10 degrees. We headed back to Lakewood Marina where we had a lot of trouble getting her secured on the outside of the barges in the winds. It took us about 45 minutes to get her moored.

Liquid wrench and a 30" pipe wrench did the trick with the old rusted cable tiller system and we got the tillers freed up going both ways.

Jacob, a friend of his, Patch the dog and I headed out again on Friday. We got off on a late start again, about 1:00. Having movable rudders made a big difference in our ability to handle her. We had to get her up to about 3 mph before the rudders were affective, so the first few hundred yards were critical and difficult. Winds were very light and predicted to stay that way for the next two or three days. We proceeded directly to the dam where the lockmaster had the doors open for us. We entered at a crawl and got secured in an amazingly short period without much hassle, considering I had no visibility to the other side and we didn't have good communications worked out yet. There was another 25 foot cruiser in the lock already, which made me very cautious.

After locking down, the fun began again. We were moored on the port side of the lock. To start moving, the bass boat had its motor turned all the way to the right. The flotilla would then skid and turn to the left (because of the asymmetrical thrust) until sufficient speed was obtained to get the rudders affective. In order to turn to starboard to get away from the lock wall, the stern needed to go to the left while we got up enough speed to go straight. Of course, the lock wall would no move. So we just kind of skidded down the lock for a hundred feet. We were approaching the lock doors and I knew nothing makes a lockmaster more angry than touching "his" lock doors. I went astern to get about a 60 degree angle off the port wall. This allowed us to get enough speed before we ran into the starboard wall of the lock to exit the lock in more or less a straight line.

I had lost a lot of sleep worried about making the sharp turn immediately below the dam in the potentially fast current. As it turned out, the bend is to the left, which is the way the rig naturally wanted to turn anyway. Being well into the fall and dry for a month, there was very little flow in the river. We went around the turn and I could relax for the first time in a month it seemed. Off we went down the river with the GPS indicating about 6.5 mph! We had 48 gallons of gas on board and were still on our first tank. That meant we probably would have enough to get all the way to Rock Harbor Marina.

The river was low and we were clicking along at a pace that allowed one to observe many things that had gone unnoticed at double that speed. I discovered the USCG does not place buoys willy nilly. If there is a buoy, you can pretty well be assured there is thin water on the other side! In the case of the markers around mile 215 on the Cumberland, those buoys are keeping you away from rock ledges that are barely under the water at normal pool, but visible to me for the first time with the water down about 6 inches. I had been pinned up against one of those buoys one time passing a down bound barge and didn't know I was less than 5 feet away from ripping the bottom right out of the boat.

Howard Toole had looked out the Briley Parkway Bridge on his way to work as Captain of a Gaylord River Taxi and saw us go by. He hollered at us on the radio on our way past, but my radio battery was too low for us to talk. He did tell us the commercial traffic would be watching for us. As we approached the Sillman Evans Bridge that carries I-40 and I-65 across the Cumberland, I noted a 6 barge tow coming upstream under the bridge. I slowed down to let them get out of the bridge before I got there. After a couple of minutes, I saw we were going to pass them under bridge unless I stopped. I could only stop by turning around and heading upstream. It would have taken a lot of room to do that, and I would have likely ended up in front of the tow. It seemed to me the better course of action was to speed back up to 4 mph where we had good directional control. As we passed the tow, I realized she was just treading water waiting for us to pass. As soon as we got by she turned up the screws and shot out a 4 foot wake getting going against the current.

We were looking for a place to stop for the night as it was getting close to sunset. We passed up Mill Creek, which I latter regretted. We got just upstream from downtown Nashville at dark. We had to land somewhere... anywhere! We choose the inactive asphalt plant bollards on the left bank just above River Front Park docks. As we turned around in the current, I just didn't have enough maneuverability pushing from the side to get secured to the bollard. We had discovered it was important to be able to raft and unraft quickly on our previous aborted half day trip, so we had rigged up some heavy hooks for our towing lines. We unhooked and I found I could push very well from directly astern. Unfortunately, I had zero forward visibility. Jacob ran forward without securing a line to raft us together, so when they started yelling for me to slow down, there was nothing I could do. The current slowed us down some, but we hit the bollard hard enough to bend the gaurd, break a weld and bend a life railing about 6 inches. The first full day and our first accident! Not a great track record so far, but the damage is not too bad and will be fixed with about an hour of work with a cutting torch and welder.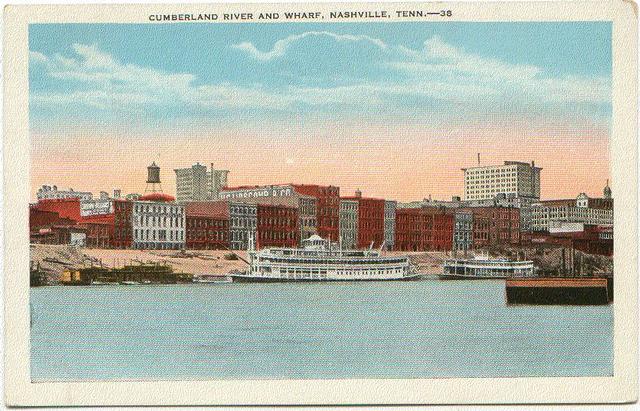 Nashville warf, early 1900's. NaBriCo barge in right foreground



We started rigging an anchor light. An Ingram towboat came by to see if we were moored well and to offer assistance. Later he went to get a sand barge a few hundred yards upstream. He may have had an ulterior motive to make sure we were not a hazard any more! Ha, Ha. Actually, we received nothing but good words and courtesies from all the towboat Captains and Pilots we encountered. I especially am grateful to all the Ingram and Hunter people for taking such good care of their neighbors on the Cumberland River. I feel like I have been welcomed into a new family where everybody will do anything they can to help you if you get into trouble.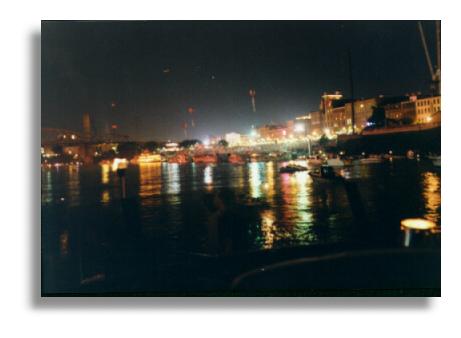 Nashville Warf 7/4/00


After running Jacob and his friend to River Front Park, Patch and I went back to Polliwog to hold a light for passing boats. When the River Taxi went by and I saw the barmaid counting her money, I figured that was their last trip and we turned in about midnight. We sleep pretty well considering Patch's Border Collie genes made her do a night watchman's tour of the boat every half hour or so. I had no blanket, but foul weather coats and sweat shirts were just about perfect. At daybreak we headed upstream to load the bass boat and retrieve the car. I noted Cumberland Utility District dumping raw sewage in the river and made notes to call the Tennessee EPA Monday morning. I got home and called Jacob at 10:30. By t 1:00 and headed upstream to fetch Polliwog.

I sweated bullets getting going again Saturday. We had to make a 180 degree turn in the current, then immediately start turning to the right. While mooring to the bollard the previous night we had broken the cable that turns the rudders to port, so we could only turn them to the right. The good news was that was the way they needed to be turned to offset the asymmetrical thrust of the bass boat. The bad thing was we need all the control we could get to get past a million dollars worth of cruisers up for Sunday's Titans game. To make matters worse, the winds were 5-10 out of the Northeast and blowing us right toward those boats. Luckily we got up enough speed quickly enough to make it under the Shelby Street bridge and get past the downtown docks. Next worry was the downtown railroad bridge built in the 1800's. By the time we got to it, I had gotten over to the right bank and some protection from the wind. We took an angle across the gap in the narrow railroad bridge which became our standard procedure for narrow bridges.

We were making about 4.5 mph on Saturday and discovered our fuel tanks were lasting 1 hour 45 minutes as opposed to the 50 minutes the day before. We were using about half the power and getting about 20% better fuel milage, a little over .9 miles per gallon.

I didn't know exactly when Id be able to move Polliwog again, so we made the decision to put her in Richland Creek for a few days. When we were approaching Richland Creek, Hunter had a tow working right at the mouth. We slowed to current speed, which turned out to be about 1.6 mph at that point on the river. The towboat finished and we felt more comfortable heading into the creek. With Jacob calling out the directions and distances on the blind port side of the boat, we ended up going right into the creek with no trouble and tied up to a couple of trees. The weather turned ugly and windy so we ended up leaving her there for two weeks.

After I got some tax returns done on October 16th, the weather window for the upcoming week looked good again and we made plans to head out on the 17th. We got our normal late start and it took us nearly 3 hours to get the 47' cruiser rafted up. With the bass boar, Rawhide on starboard, and the cruiser, Future, on Port, we pulled out of the creek with no fuss and headed downstream at about 6 mph. Forty eight miles behind us and 135 to go.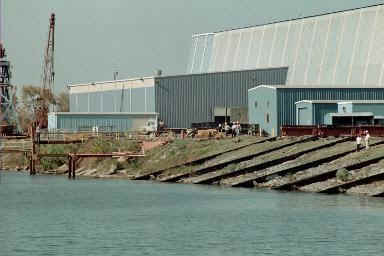 We called Nashville Bridge Company to let them know we were coming by. They called the shop and they let all their employees out to the river to watch us go by. We felt pretty special.

We got to Cheatam dam about 15 minutes too late to get locked through before a double lock tow came up. So, we sat for 3 hours and watched the sun go down over the lake. We were tied up to the mooring bits right at the "Arrival Point" sign (not legal we were told the next day), although we could have declared an emergency maybe having been trapped by darkness. We were actually required to keep a watch all night and dogs don't count, even dogs that bark at other boats when they get too close. Luckily fog had stopped all the tows on the river.

The next morning I started to change the oil on Future's starboard engine and found the pump would not pump the oil. A man stopped by to look at Polliwog. He owned a bait shop/repair yard and said he'd go get his pump. Before he got back I had my pump working and had started changing the oil. However, there I was getting help from a fellow mariner who offered anything he had to help and didn't know a stranger. He closed the bait shop so his Wife could come see the boat. The fog lifted about 8:00 AM and we locked through. The lockmaster gave us a couple copies of the rules books with particular rules highlighted she wanted us to not violate anymore. Thanks for the information and diplomacy. 110 miles to go.

The area immediately below the dam is pretty narrow of course and not very pretty with its high sandy banks. About 2 miles below the dam, the dingy davit on Polliwog that was holding Future's stern and pulling lines came loose. Oh my, we were floating down the river sideways, in a narrow chanel, praying a tow was not nearby It took us about an hour to get everything secured and going again. 107 miles to go.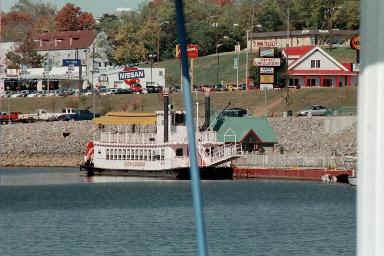 We got to Clarksville about noon and Cumberland City about dark. A friend, LP, called as she was driving down the Interstate to ask if we could see the beautiful sunset. We were headed about 280 degrees and I was in awe. We decided we had to keep going. We found we could make a little over 5 mph with just Future, and about 7.5 with both boats pushing. We talked to the pilot of a Hunter Marine boat, M/V JW Hunter for quite some time about 10:00. He had much experience taking barges in and out of the marina where we were going. He said he didn't like going in there at all. It is open on the NW side and can be terrible in windy situations. Indeed, there is a sunken barge in mud on the SW side of the entrance. The left hand side is bordered by an old railroad track that is barely covered under normal pool. Just something to loose sleep over another night. I was beginning to question my sanity, as others had been questioning it all along. During the passing with the JW Hunter, I ended up sideswiping a buoy with Rawhide. Dale Kelley is right, they don't do much damage, but they do make a loud thump when they hit.

We had great control with both boats. I had rigged up a come-along on the tiller arms in order to kick the rudders to port to compensate for the thrust of Future on the port side. We pressed on in the dark knowing the fog would roll in and pin us till it lifted in the morning. About that time Jacob's FRS radio bounced overboard. We decided without the radios, we'd shut off Rawhide for the night and get everybody safely onboard Future. Jacob started piloting and quickly ran over a green can. It went all the way under Rawhide and banged on the motor. About 11:00 I felt like the fog was getting worrisome and we needed a place to land for the night. We tried a cove at Tobbaccoport, but it looked too narrow and shallow, so we went on. At Linton light we found a first class landing. We would be in a narrow place on the river, but visible from both directions and in a legal place to sit out the fog. Just to be sure, we notified Mr. Nelson at the nearest lock (Cheatam) via telephone. We got in bed at 12:25 with 45 miles to go. What we didn't know until the next day was this was just about the last semi protected place for us to tie up. Even a blind pig can find a acorn! It took us about an hour to get moored. I'm beginning to think like a towboat - no maneuver can be done in less than an hour. Although Jacob and I were getting communications worked out and we were starting to anticipate each other's moves - heck, Father and Son working as a team! That was worth the price of admission by itself.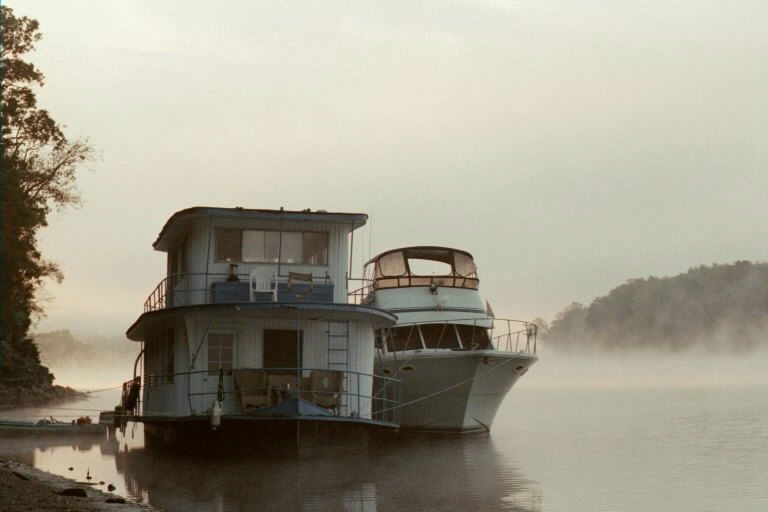 At 5:26 a towboat making about one mph in the fog woke me up as he went by. I got out of bed shortly after that and discovered Polliwog's starboard side was on the mud and about six inches high. I got everyone up and we proceeded to extricate Polliwog from the mud. The bass boat couldn't do it by itself, so we had to unraft Future. We rigged two bow lines evenly and with both motors astern we pulled her off without too much fuss. However, now we were drifting in a very narrow channel without any maneuvering ability while we got rafted back up. This whole operation took us about and hour and a half. Off we took past the Nature Preserve as the fog was lifting. What perfect timing! There were thousands of birds in the wetlands of the nature preserve. We passed a flock of about 30 Pelicans.

We made a couple of telephone contacts with LP. Les Hardy was bringing her down to Rottgering Marina, along with Shay Freeman to help me get Future home. We planned on getting there about noon. As we went past Prizer Point Marina we sent Jacob in to get a can or two of gasoline. He knew nothing about side channel markers and ran aground in about a foot of water at 20 mph. I cruised on down while he got off the boat and started pushing. Another hour lost to a seemingly simple operation that was supposed give us some additional margin of safety. The next call to LP was to tell her were would be there about 1:30. 15 miles to go.

It was very tempting to cut some of the bends in the river. However, our recent groundings in conjunction with the low water convinced me I really didn't want to risk it. I had never actually been able to get a reading off a gauge anywhere, so I didn't know exactly how low the lake was. When we got to the marina I sent Jacob in to check it out. He came back knowing where the markers were and where to go, so maybe his earlier grounding was just God's way of preparing him for this more important scouting trip. The lake was low enough to make the old train track bed visible on the port side made a very graphic picture how numerous boats had been torn up on them. The winds were light and we had no trouble getting in, although not without some anxiety.

We got Polliwog secured, the paperwork filled out, and LP and Shay loaded back up for the return trip. It was 3:30 Friday afternoon with135 miles to get back home. We had a Ladies at the Helm party scheduled for 10:00 the next morning. I wish I could adequately describe the look and sounds from my crew when they figured out how long it would take to do 130 miles with 10.5 miles an hour across the bottom showing on the GPS. We stopped at Prizer point to get some fuel. I thought we had enough to get back home as we had run 20 hours since filling up and I just wanted to be safe. Much to my chagrin, I ran hard aground just as Jacob had, although I was following the markers! It turned out that a buoy was missing. Much to my surprise, we only had 20 gallons of fuel left! I guess we'd been running Future at a much, much higher throttle setting than I thought since we burned 17 gallons an hour as opposed to our normal 11.

Shortly after getting back on the River they had the stereo cranked up to 120 decibels and the beer cans popping. That's about the time we missed a little bend in the river and ran across a mud bar going over 10 mph. Luckily our momentum carried us nearly all the way across it. I said, "Well Ladies, we need to get serious about this trip. Turn down the stereo so we can communicate and go to work. We have less than an hour before dark for you to learn everything you ever dreamed of knowing about river navigation!" They settled down and learned how to read a chart. They learned how to use the binoculars to look at markers. They learned how to judge the angle of bends in the river. They learned to repeat the names of all the landmarks we went by so we could all help each other keep track of where we were. They learned all the symbols used by the maps. And most importantly, they learned how to move the searchlight and find the next buoys. It was wonderful to have 2 pairs of young eyes which could pick up the reflections from the cans and nuns about 300 yards farther than I could. We had gotten aground once with Rawhide, once while moored and now twice with Future. We had been extremely lucky and did absolutely no damage in any of those groundings in soft mud. However, we couldn't afford any more mistakes. I set the depth meter at 9 feet, the guaranteed channel minimum depth and it only went off twice more the rest of the trip when we were at the edge of the channel and the water was a little thin. 110 miles to go.

We got to Cumberland City about 9:00 Friday night. LP had made us a salad and some cordon blue stuff. She had dinner ready just as we pulled into the bright lights around the TVA fleeting area at the steam plant. We slowed to about half speed speed and ate dinner in the bright lights. What perfect timing! Now if the fog will just hold off... LP and Shay had contingency plans for in the morning just in case. We could have the party meet us down the river, we could reschedule, we could "just do, do, do it!" 75 miles to go, we're almost half way there.

The fog didn't seem to be getting much worse. Visibility with the search light was about a quarter mile. The river was narrow enough that we could follow the bank if we couldn't pick up marks. There is a long stretch South of Clarksville where the marks are few and far between. It was stressful following the banks with only one light because it is hard to tell if the river was turning or the boat had changed directions. It was nice to get up to the lights of Clarksville where it was light enough to see the outline of the river banks. We got to Clarksville at 12:13AM. Hey! About 50 miles to go and the fog seems to be holding off.

We overtook an Ingram barge just North of Clarksville. He was nice to give us room and illuminate the points for us as we went by. I just can't say enough good things about the Ingram Pilots! We got in the habit of radioing our position at lights and day marks, bridges and towns, as were the tows. Someday I'm going to have a well-tuned high output antenna like they have on the towboats. 40 miles to go. Passed a barge heading downbound and warned him about the tow 5 miles or so behind us.

By the time we got to Cheatam dam the fog was about as bad as I could stand. It was 2:30 Saturday morning and I had been on duty for 21 hours. Luckily, the river was narrow below the dam so following the shore was pretty easy. We had not run aground again after we got serious. I had only gotten crossed up a couple of times and quickly recovered after slowing down and studying the map. LP and Shay had been taking turns navigating and sleeping. They had both figured navigation out and were doing a great job.

As we pulled up behind the short river wall at the dam to get out of the way of the water being dumped, LP hollered, "Did you see that lightning?" "No," I lied. By the time she was throwing the lines around the floating bits in the lock, the sky opened up. What a trooper! LP was soaked by the time we got secured and moving up. Luckily the rain was warmer than the air. 25 miles to go! And I'm very familiar with 20 of those miles. Uh oh, the rain brought in the fog! We were in the wide part of the river just above the dam and lost sight of the shore. We slowed to idle speed and crept back to port and the right descending bank. We crept along at about 1,100 rpm (1.5 mph) for 30 minutes before the fog lightened up enough for us to get back to a reasonable speed. 20 miles to go.

Just before we got to Ashland City I started nodding out. It was time for Shay to take over. I knew the river well and we were picking up the shoreline with the lights from Nashville reflecting off the low rain clouds. Just before daybreak Lynn came on duty and I finally got a chance to lay down for the first time in 25 hours. I got about 15 minutes of a nap before my back started hurting so much it woke me up. Oh boy! Commodore Marina - 5 miles to go! The orange leaves were floating on a glass-smooth river, daybreak with blue herrons, 58 degrees, it just doesn't get in better than that.

We tied up at Rock Harbor Marina and I got in bed at 7:00 after walking a very excited Patch. Again, those Border Collie genes were telling her she was glad to be on familiar ground. The next thing I knew LP was knocking on the stateroom door telling me the Ladies were here and it was time to go back on duty. Well, that was a good three hours of sleep!

We headed up the river on our tour of Historic Nashville. No one on the boat was aware how important the river was to our heritage. We saw Demonbreun's cave (the first Non-Indian to see the Cumberland) and everyone got a chance to drive.

While one of the ladies was learning how to drive, she abruptly pulled one or both of the throttles back. I was sitting facing backward on a bulkhead on the cruiser. I fell over backwards off the little bulkhead and headed butt first down an open hatch (where a ladder USED to be) toward the kitchen floor, 7.5' away. Luckily, I grabbed the open hatch cover on my way past and arrested my fall. The person who best saw the trick had her hand out to help me and I asked her to take my coffee cup, which I still had my the other hand. I was on the way to breaking my neck and I was still trying to keep from spilling the coffee! Mother would be proud. She asked if I was hurt and I said "no, but could you please see if I'm bleeding on the back of my head." I wasn't, so it just went down in the book of "Stupid Bob Tricks." Isn't that the epitome? We did 260 miles of very a dangerous activity, then I nearly killed myself relaxing after the trip.

My back is sore from bending over to work the searchlight. I know I want searchlight controls where they can be operated from a standing helm position without bending over, and I want two! My feet hurt from standing up for a significant portion of the 35 hours I was piloting. I want a tall helm chair that I can move anywhere I need to move it. Forget those short seats bolted to the floor.